Kick-Off Meeting INTRIDE – Soft, Digital and Green Skills for Smart Designers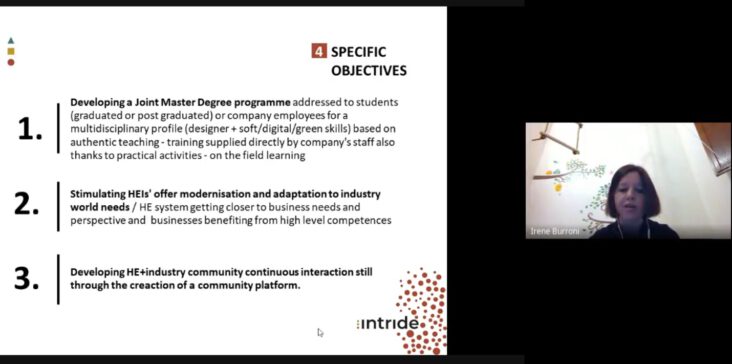 On 16th and 17th April, we had our INTRIDE Kick Off Meeting in web conference. The KOM started with a short personal presentation of all the participants and the first session concerned the project introduction, deepening the project objectives, the consortium and the workplan overview.
The second session was related to all partners' presentations and was followed by a specific session led by DIDA concerning financial reporting, project budget and consortium agreement.
The last session of the first morning concerned the dissemination of INTRIDE project and was led by CENFIM that showed the first version of the Dissemination and Communication Plan. It will guide all the partners during the whole project life promoting the INTRIDE actions and outputs.
During Thursday 16th afternoon, we had two hours session related to "WP3 – Field analysis of the state of the art", in which TFC, the WP leader, planned the workshops/focus groups with SMEs defining methods, guidelines and outputs.
The Friday 17th morning session was dedicated to the project Quality Assurance. It was led by WSB planning the Quality Plan, the Quality monitoring and assessment.
The Kick-Off Meeting ended with a final discussion in which all the partners contributed to define and plan the next step and actions of the project. Considering the difficulties related to Covid restrictions and the inability to organize the first meeting in presence, we are pleased with the partners' contribution and their active participation in the KOM.