In Polish public sector Design offer is mostly referring to Artistic HEIs. In Poland we have 7 public academies of fine arts.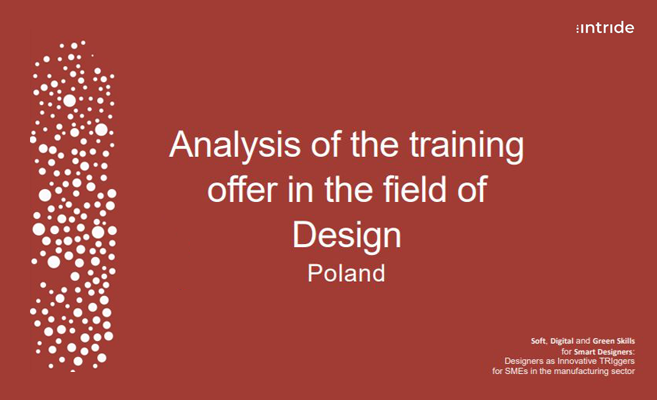 The specific of Polish public offer is that also technical universities have studies on 1st and 2nd cycle on Design or with some design competences in their educational programs.
Design offer in Polish HEIs Private Sector is limited to very narrow and specific fields of design. All private HEIs charge students with fees so the study programs are really good and focused on practical aspects and market/student expectations. In example, we have University of Arts and Crafts and Management in Wrocław – private HEIs focus on educating artists and craftsmen in the jewelery industry, knowledge of precious stones and conservation of works of art. One of most known Artistic private HEIs is University of arts and design in Łódź; they are focusing on photography, filming, acting and Industrial design. Also some technical private HEIs offer artistic programs, ie. University of Technology in Katowice which focuses on Architecture, Interior Design, Construction, Graphic, Mechatronic and Design. If Private HEIs is offering design studies they are very similar to public universities as they all have to be in line with Ministry requirements.
Public Artistic HEIs in Poland offer studies free of charge in a limited set of BA, MA programmes with main focus on technical skills. Some of them have in their offer programmes partially fully based on digital skills represented by usage of different types of multimedia. Soft skills are represented in all types of programmes but limited to basic lecturers and workshops ie. in visual communication and business relations with potential clients. Green skills are almost no represented in public free of charge offers. Public Artistic HEIs offer some MA programmes (2-years), but students have to pay for participation. Paid offer is more wide and include green and soft competence ie. in a field of social innovation, inclusion, ecology etc.
Public Technical HEIs in Poland offer studies free of charge in a limited set of BA, MA programmes with main focus on Industrial design, textiles, motorization design and engineering. The focus of these study programmes is also on technical and digital skills with a very limited info about soft skills, like project management and teambuilding.
Summarizing, according to the State of the Art report of the Polish educational offer in design masters & degrees, the most lacking skills in Polish (public and private) HEIs design offer are green skills. In public, free of charges, programmes green skills are almost no existing. Green skills are a part of extra, paid programmes only. They are focusing of very narrow and specific problems. In other hand, green skills are sometimes a part of social and inclusive skills programmes (also extra paid).