On Friday 1st October we had the first meeting in presence of our INTRIDE project!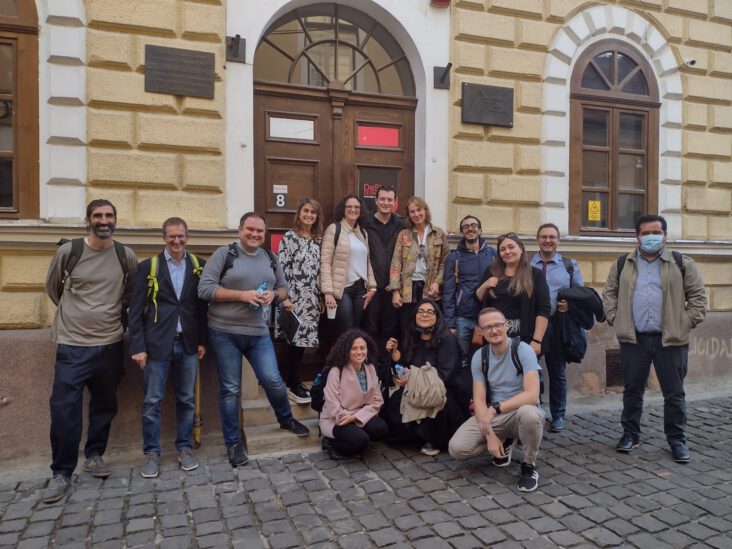 It took place in Cluj-Napoca with a great hospitality arranged by the University of Arts and Design and TFC, our Romanian partners.
It was a great pleasure to finally had the chance to meet the partners after one year and a half since the beginning of the project.
The meeting was mainly focused on WP5, related to the pilot action that will be implemented during the second semester of this academic year.
During the morning session, after a brief introduction, DIDA presented the final version of D4.4 doc – the last Wp4 deliverable – concerning the training materials of the different modules of the INTRIDE Joint Master Degree.
After that, ELISAVA, as WP5 leader, shared a proposal for the organization of the pilot action and related activities. The Wp5 session was crucial to draft, to discuss and to reach a common agreement on the structure and organization of the pilot action. It was also helpful to highlight the next steps and activities that will be realized over the coming weeks.
After the lunch break, the afternoon sessions were dedicated to specific updates regarding three different Work Packages:
WP2 – quality assurance, during which WSB presented an updated version of the Quality Toolkit.
WP6 – impact evaluation, with the presentation by DiD of the internal survey's results.
And WP7 – dissemination, in which CENFIM shared an update about the community platform and the dissemination activities.
After the meeting, all the partners had the chance to visit the headquarter of TFC (Transylvanian Furniture Cluster), our Romanian cluster partner. They showed us the labs and the technologies with which they develop new projects with the creative industries involved in their network. It was a great experience to be there and to link the development of our project with the world of manufacturing's representatives.
Once again, we would like to thanks the Romanian partners for the great hospitality arranged. And, together with them, all the partners for their contributions and active participation in all the project steps, underling all the efforts made to assure the quality of the project activities despite the covid crisis.
The next meeting will take place virtually on 15th October and it will be focused to the practical organization of the pilot test structure, together with all the national administrative procedures.