Romanian national validation workshops (5th June 2021 – workshop students, 16th June 2021 – workshop companies)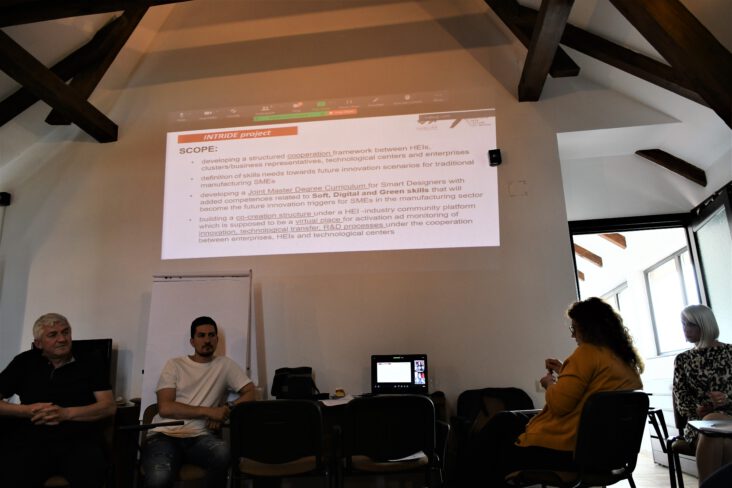 Workshop 1 (Participants: Transylvanian Furniture Cluster members: manufacturers, traders)
Most of the members struggle with lack of human resources. At the moment soft skills like communication, adaptability, flexibility and responsibility are considered the most important skills the employees should possess.
Participants considered the structure of the Joint Master Program a good one, the subjects included in the program could be useful for future employees.
The cluster members underlined the importance of practice, all the included themes will help the companies only if the acquired knowledge can be converted immediately into practical use (for example, to have the opportunity of working with the materials in order to see what happends in reality, what kind of products can be made, gaining understanding of their functionality and production mechanism).
It was mentioned also the importance of economical perspective (how to market the product effectively) and the capacity of innovation. Design is important, but it has to be in correlation with the engineering skills.
Another point of view is that future designers should be prepared after courses to work for any type of industry (therefore, general competences in this field are needed).
Workshop 2 (Participants: students and professors from University of Sopron and University of Art and Design)
Some of the subjects included in the Joint Master Curricula can be found in the actual training programs (design driven innovation, design and creativity, recycling, technology and design, etc.).
Developments in green and technology related digital skills are considered the most interesting subjects.
Students and professors emphasized also the importance of practice, therefore the workshops at the end of all modules are very important.
It is essential to develop a good relationship with the industrial partners and have real practical themes coming from industry.