Final national INTRIDE event in Romania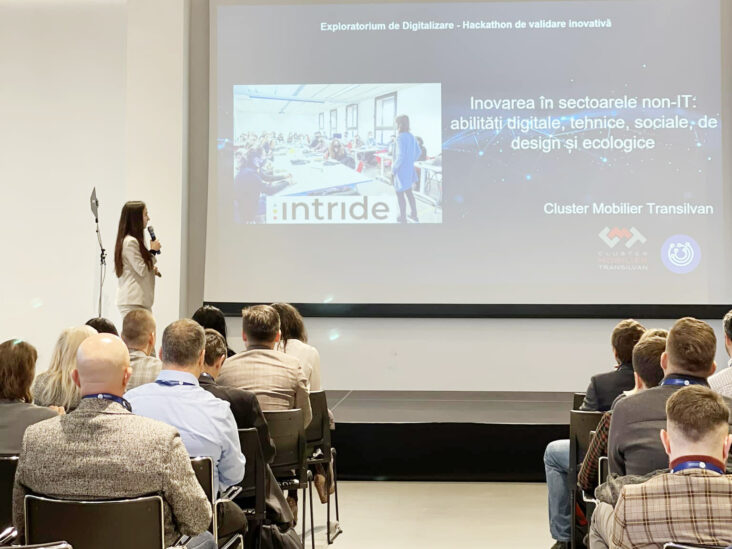 On November 24, representatives of the Transylvanian Furniture Cluster and the University of Art and Design of Cluj-Napoca participated in the first public event under the umbrella of the Transilvania Digital Innovation Hub "Digitalization Exploratorium-Innovative Validation Hackathon" to disseminate INTRIDE results to relevant actors from the business and academia environment.
The event took place at the Regional Center of Excellence for Creative Industries in Cluj-Napoca. Transilvania IT Cluster, coordinator within TDIH together with the project partners, Hygia Consult, Babeş-Bolyai University, Technical University of Cluj-Napoca, University of Medicine and Pharmacy "Iuliu Hațieganu" and the National Institute for Research and Development in Isotopic and Molecular Technologies have provided information about the opportunities and services offered within the project. The event was auspicious for SMEs, meeting their needs with a complete set of digital transformation and innovation services. The event was attended by more than 120 participants, representing 32 SMEs from fields such as health, education, creative industries, IT, and production, as well as 14 support organizations (universities, clusters, associations, and public authorities).
Therefore, the results obtained through the INTRIDE project were presented during the event. The participants of the event had the opportunity to find out more details about the results of the studies carried out on digital, technical, social, design, and green skills in the 4 partner countries, but also on the advanced course "Design for Sustainability in the Manufacturing Sector". They were also invited to join the INTRIDE Open Innovation Platform to have access to the available training materials, but also to connect with other entities/professionals or participate in the launched challenges. The opportunity to train designers with digital, ecological, and social skills necessary to face new trends, needs, and challenges of the market and to promote and catalyze innovation in companies was appreciated by all the participants of the event.