WP3 was reviewed in the last project meeting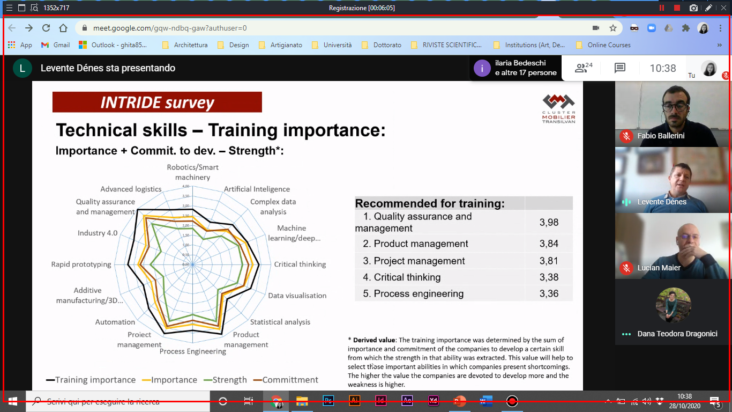 The meeting was focused on Work Package 3 – Field analysis of the state of the art – especially regarding the presentation by TFC, the WP leader, of the Final Analysis Report that collects the results of the national surveys and workshops.
The report summarizes the skills, competencies and knowledge needs emerged from the interviewed companies, focusing on specific industrial challenges in which the designers could be inserted.
The data contained in the report – focused on digital, soft, green, design and technical skills – will constitute a real resource for the definition of the Training Path and for the definition of the innovation scenarios of the manufacturing sector, for each country and at the European level. In the meantime, it aims to harmonize skills needs and competencies to create a transnational common basis useful to guide the future training programme.
In the last session, DIDA introduced the Work Package 4 – "Development of project training programme" – and shared a a benchmark on soft digital and green skills courses present in Italy, asking all the country partners to do the same in order to have a framework of the training offer in the countries involved in the project.
The Meeting ended with a final discussion in which the partners contributed to define and plan the first steps and actions of WP4. Considering the difficulties related to Covid restrictions, we are pleased with the partners' contribution and their active participation in the meeting.